Call Center Solution (Dialer & CRM)
In the modern world, it is extremely important for an establishment to develop and maintain great relations with customers. This is because customers can make/break a business via their word-of-mouth advertising and feedback. That is why business owners, like you, opt for call center solutions. It is understood that you would prefer to have something automated in place, if you are keen to move ahead in a highly competitive and globalised world. In other words, you look around for call center management software, which is a complete package of services and products. Business Baatein Software plays a valuable role in customer relationship management.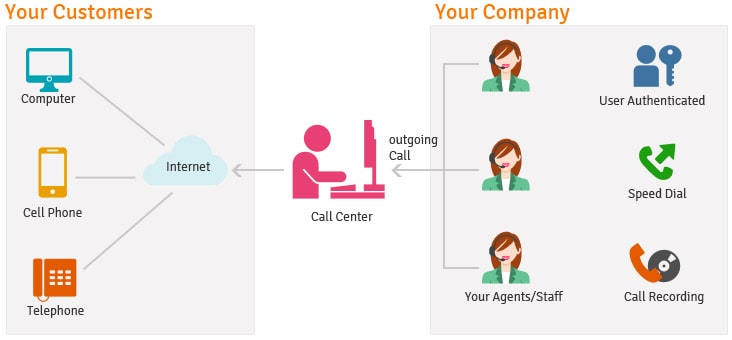 Call Center Software Solutions
A phone system is integral to these solutions. Therefore, you will need a well-functioning server in place. Additionally, you will have to go in for software, which helps to bring about a connection between computer and telephony systems. Towards this end, Trigun Infotech has good options to offer you. For instance, you might like to have the computer taking over the phone controls, on-screen displays of various customers' profiles/information, etc. It is possible to combine diverse programs, in order to create customised software, which is perfect for your particular organisation.
Inbound Call Center Software
The idea is to tackle incoming calls from different customers placed at various geographical locations. To illustrate, customers may have something to complain about, want to make some inquiries about your company's product/service, or place requests. Then again, this department may be keen to provide technical support to online customers, or even use technicians for garnering internal support for business. Sometimes, clients desire to place sales orders, wherein you will need software programs to record the order entries, as well as process each order prior to delivery. Finally, this kind of program takes up the role of scheduling reservations, appointments and registrations.
Often, an establishment prefers to keep inbound call centers under the control of an external organisation. This is because it saves on time and money. Your company will only have to shell out money for each call, or for each minute of a call. It will not have to pay for the services of the call center employees or the communications hardware. In case, this organisation is located beyond your local borders, you may refer to it as an offshore call center.
Outbound Call Center Software
This is where your customer care department makes outgoing calls to consumers and clients. In this case, the employees make calls to clients/customers with the intention of advertising or selling a product/service. This is telemarketing or lead generation. Sometimes, an emergency demands the dispatch of emergency services or immediate messaging. A third service comprises of enrolling people in surveys, engaging in market research or requesting customer feedback. Have your customers delayed payments for products/services? Well, your call center will have to take care of debt collection. Sometimes, they may have forgotten to renew their account/subscription, or may be unaware of upgrading services. Finally, the outbound call center is duty-bound to keep track of credit cards and frauds via the Business Baatein Call center Software.
Similar to outsourcing inbound calls, your company may like to engage an external establishment for tackling outbound calls too. Then again, in several establishments, which take charge of customer care services for various companies, the management goes in for a saving on expenses by dividing labour amongst the employees. This means that some of them take care of inbound calls, while others take charge of outbound ones.
A popular auto dialer
Now, when everything else is automated, it follows that you would like to have an Auto Dialer in place too. This refers to a system, which is capable of automating and expediting the dialing of diverse phone numbers. Earlier, such a dialer came into play only as a hardware solution. Today, with rapidly advancing globalisation in place, any company would prefer to purchase Dialer Software for its Call. We, at Trigun Infotech, can offer you the software at reasonable prices. Just contact us at the earliest! In fact, we have earned the reputation of being a great Dialer software provider in Navi Mumbai.